Bill Hemmig
Regular price
Sale price
$16.99 USD
Unit price
per
Sale
On Backorder - please see additional purchasing options
The many faces of curiosity. Which one do you see?
Welcome to Bill Hemmig's Americana, a collection of snapshots that capture the everyday American experience. From filling the bird feeder to a realtor conference (behind) the happiest place on Earth to the picturesque canals of Venice, each story celebrates the eccentricities hidden inside the fabric of an ordinary life.
Praise for Americana: Stories
In his new collection, Americana, Bill Hemmig explores the psychological complexities of modern life. In these keenly observed stories set in familiar surroundings—the interior of a bathroom, a daily commute along a two-lane highway, a garden designed by a former homeowner--Hemmig creates landscapes that are continually shifting, in which characters, sometimes tragic, sometimes comedic, live in a state of emotional uncertainty as they move back and forth between reality and imagined worlds. "Life happens inside us," says one character, as Hemmig explores with acuity and deep intelligence the tension between these two and how to live with the inevitability of death.
~Cheryl Baldi
Author of The Shapelessness of Water
"Inside, outside, upside down"—such are the dizzying and often tumultuous lives of the characters in Bill Hemmig's story collection, Americana. Often with humor, sometimes pathos, and always with passion, Hemmig presents these characters with an almost-fairlylike presence. Are they real, or are they imaginary?
We begin with the backside of Disneyland. "I didn't know Disneyland had a back," Clarissa remarks in "Behind Disneyland," where, in the evening, the sunset, "even from the back is starting to fire up with color." Everything here is pure fantasy.
But things become darker: in "Every Takeoff," the narrator confronts his fear of flying with a list of alternative things to think about before takeoff: Taxiing. Pilot. Depressant. Antidepressant. And in "The School Bus," a father becomes so obsessed with every minute detail of feeding the birds--especially a particular finch he thinks might be in danger--that he ignores his own fledglings, his children, and is unable to get them out of the house to board the school bus in time.
The narrator in "Getting Out" is someone whose OCD is severe enough that his partner moves out, but not before the narrator, John, has become so deeply enmeshed with him that even the reader has trouble distinguishing between them. And in "Nobody Likes to Be Sick," Kevin's depersonalization seems to bring him almost to his death.
But, no—wait! Now Kevin is ready to play" . . . with the "[c"]ountless floating kitties."
Like Kevin, we can all play. And we can all be saved, according to the woman (angel?) who appears to before someone she thinks is Christ arisen: "You were sent . . . to save us all from our own imperfections," she tells him. "Hm. Maybe she's ok with me after all," the narrator thinks, "and that it is ok to just be here, to just be." Hemmig agrees.
~Julie Cooper-Fratrik
Author of The Space of Appearances
Book Details

ISBN: 979-8-9861199-3-9
LCCN: 2022946350
Release Date: July 11, 2023
Dimensions: 5x8in
Page Count: 110 pgs
Format: Paperback
We currently have 7 copies available.
Share
View full details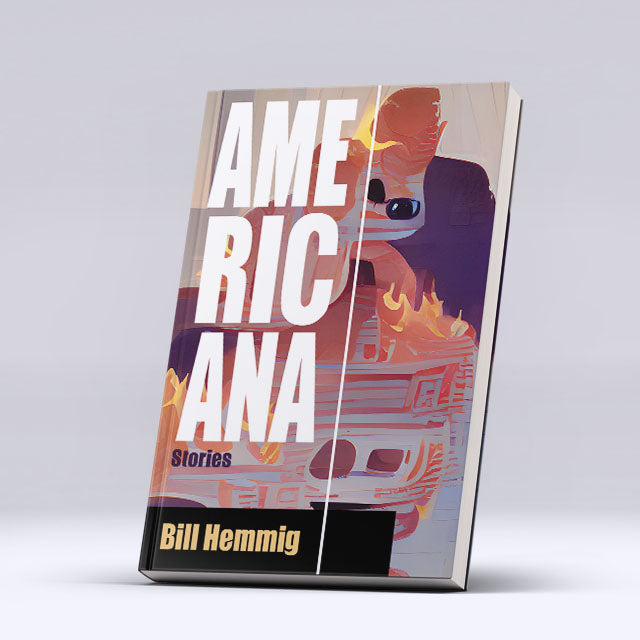 Americana is available wherever books are sold
Shop local and support one of Bill's favorite independent bookstores.
Located in the UK or EU? Order internationally through Waterstones Books.