Adam Wilson
Franco Viglino
Regular price
Sale price
$9.99 USD
Unit price
per
Sale
On Backorder - please see additional purchasing options
A superhero story. An unlikely duo. And a story very much not about superheroes.
Perfect for YA readers, Brian & Bobbi takes all of the best components of a superhero story and connects them to an unlikely duo. Both want recognition from their families and working together is the best way to get what they want. The real fun is watching Brian and Bobbi discover that what they want isn't exactly what they need.

Brian & Bobbi is a story for those who feel ignored on a daily basis. Brian has gone completely unnoticed all his life, despite being born with amazing superpowers. Bobbi is the illegitimate daughter of a superhero who can't seem to convince anyone she's just a regular kid.

By chance, the two meet and what results is a coming-of-age tale set upon a larger than life superhero backdrop. It's a graphic novel where the super villains, the powers, and the incredible fight scenes are really just the catalyst to tell the much deeper story of two people who couldn't be any more different -- or any more alike.

Praise for Brian & Bobbi
Adam Wilson has a lot to celebrate with this story. It takes an existing framework and twists it in a creative direction. He's a writer whose name I'll watch for in the future. Franco Viglino's artwork is at times sexy, playful, fresh and cinematic. He feels like he's just starting to come into its own visually as there are panels that surprise and others that feel very personal. All in all a very fun little package.
~Comic Related
A prime example of what the indie world has to offer... This is a high quality and enjoyable story, something that I will re-read and eventually give to my kids to read while my boxes of old X-Men and Spiderman sit in the closet collecting dust.
~ Fanboy Buzz
Adam Wilson the author does a phenomenal job of bringing these characters to life, with real issues that some of us remember less the super powers that they get to have. Franco Viglino's art is easy on the eyes, and fits the story line very well.
~Comic Forge
Book Details

ISBN: 978-0-9965227-1-7
Release Date: August 19, 2017
Trim Size: 5x7in
Page Count: 128
Format: Paperback
We currently have 21 copies available.
Share
View full details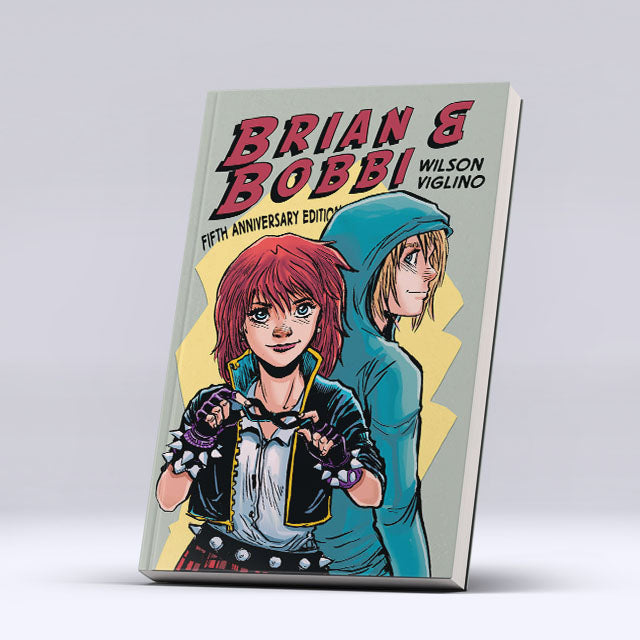 Brian & Bobbi is available wherever books are sold
Shop local and support one of Adam and Franco's favorite independent bookstores.
Located in the UK or EU? Order internationally through Waterstones Books.