Christopher Bursk
Regular price
Sale price
$12.99 USD
Unit price
per
Sale
On Backorder - please see additional purchasing options
A metaphorical and mythical exploration of a talented poet's life and career.
The late Christopher Bursk has given us a lasting gift of shared moments, both of terror and of peace. Told as a recollection of experiences, both real and imagined, Dear Terror reminds us that life must be forgiven in order to be lived.

"Famous poet, before you
take a nap
while I wait in the lobby for you to be done dreaming
ask me just one question.
That'd be enough."
– from "Delivering the Famous Poet to His Hotel"

The poems in this collection acknowledge that fear and anger must exist alongside comfort and longing for a life well-lived and a life thoroughly examined. This book is for those who search for moments alone and moments shared. For those who understand terror as an instrument of desire and of uncertainty.

With a career spanning decades, Christopher Bursk was a beloved father, grandfather, friend, professor, and poet. He was a champion of all literary causes and a great friend to Read Furiously. We are honored to publish this title.


Book Details

ISBN: 978-1-7337360-4-6
Release Date: May 19, 2020
Trim Size: 5x8in
Page Count: 82
Format: Paperback
We currently have 36 copies available.
Share
View full details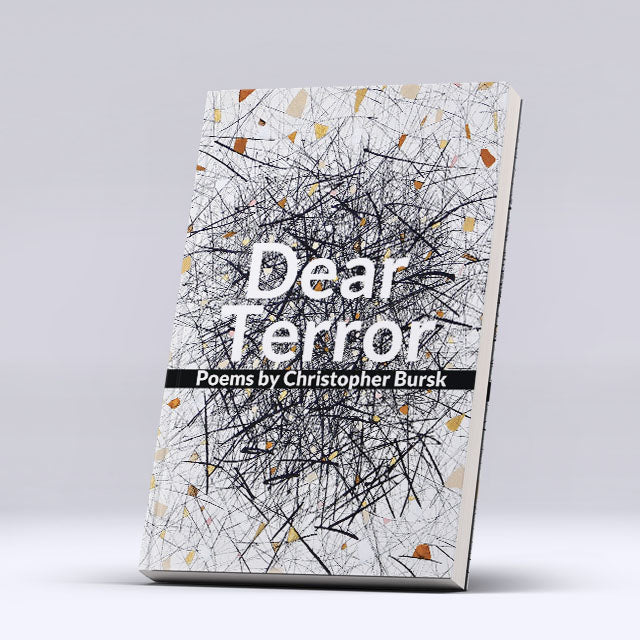 Dear Terror is available wherever books are sold
Shop local and support one of Chris's favorite independent bookstores.
Located in the UK or EU? Order internationally through Waterstones Books.