Quick reads worth every minute
Build your reading experience with short works by talented authors. Portable and pocket-sized, the One 'n Done series offer a variety of genres to be read in an afternoon or weekend.
Find the whole series here.
Matt Lydon
Regular price
Sale price
$9.99 USD
Unit price
per
Sale
On Backorder - please see additional purchasing options
Join Joanie, Diane, and Bette on a slow-paced, arthritic thrill ride of geriatric proportions.
This short fiction is the perfect gift for anyone who loves a car chase, diner squabbles, or "Golden Girls" squad goals. This is a story for the ages (and the ageless) that reminds us that memories are only as strong as those that carry them.

A weekly diner breakfast quickly escalates into three old ladies out on the lam with a gun, stolen cash, and a hostage. And don't even get Joanie started on her sciatic nerve. With the Ocean City PD slowly closing in, the ladies' relationships and personal histories will be tested. Because youth and beauty may come and go, but some people you just can't shake.
Book Details

ISBN: 978-1-7337360-3-9
LCCN: 22811520
Release Date: November 12, 2019
Trim Size: 4x6in
Page Count: 70 pgs
Format: Paperback
We currently have 14 copies available.
Share
View full details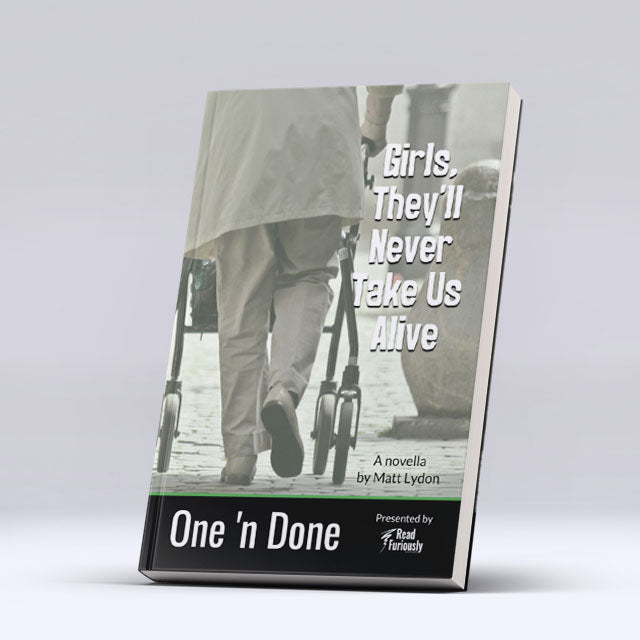 Girls, They'll Never Take us Alive is available wherever books are sold
Shop local and support one of Matt's favorite indie bookstores.
Located in the UK or EU? Order internationally through Waterstones Books.