Samantha Mann
Regular price
Sale price
$14.99 USD
Unit price
per
Sale
On Backorder - please see additional purchasing options
A candid search for self that is humorous and heartbreaking
In her debut collection of essays, Samantha Mann explores the highs and lows of loving yourself and others. Each essay is born out of recognizing one's trauma and being cognizant and grateful for the person we become, as told through stories of adventurous musings and awkward missteps. As we watch Mann grow from observant teenager to an expressive, creative adult, nothing is off limits - and we are all the better for it.
Samantha Mann explores the stigma that accompanies mental health and the brave choice to seek therapy. She stresses the importance of living as your authentic self as she falls in love with her sorority sister, who will later become her wife.
As an entire collection, Putting Out: Essays on Otherness offers a thoughtful conversation on the power of female sexuality and owning one's true identity. Samantha Mann has proven that we can appreciate who we once were in order to celebrate the happy ending of who we are now.
Praise for Putting Out: Essays On Otherness
"Samantha Mann is raw, honest, vulnerable, and completely relatable. The more specific she gets with her adolescent angst stories and the more particular they are to her experiences, the more universal they become to anyone who struggles with sadness, inner conflicts of being yourself versus living up to the expectations of others and just general challenges of fitting in, belonging, and being understood."
~ Julie Bashkin Creator and Producer, Personal Disclosure Podcast
"By sharing her story, [Mann]'s showing the joy that can come from embracing your identity and taking care of your mental health - not to mention falling in love with your sorority sister.
~Erika W. Smith
Also by Samantha Mann: I Feel Love: Notes on Queer Joy
Book Details

ISBN: 978-0-9965227-8-6
Release Date: March 19, 2019
Trim Size: 5x8in
Page Count: 158 pgs
Format: Paperback
We currently have 11 copies available.
Share
View full details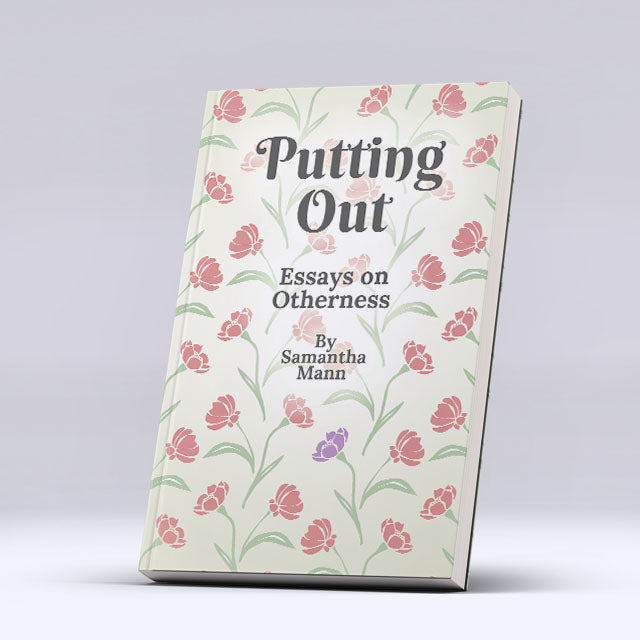 Putting Out: Essays on Otherness is available wherever books are sold
Shop local and support one of Samantha's favorite independent bookstores.
Located in the UK or EU? Order internationally through Waterstones Books.