Eileen Moeller
Regular price
Sale price
$11.99 USD
Unit price
per
Sale
On Backorder - please see additional purchasing options
Follow two lives in parallel against the stark industrial landscape of Paterson, New Jersey
The "Silk City" stood as an industrial giant in the 19th and 20th centuries. Massive and powerful mills worked throughout the years for the American people, making anything from textiles to aircraft engines. These mills are the backdrop and inspiration for this breathtaking collection of poetry.

The magic of flight and the burden of legacy come together in Silk City Sparrow, Eileen Moeller's third collection of poetry. The present is a refuge as Eileen Moeller immortalizes those around her and celebrates the multi-generational landscape of her city. Each poem reminds us of the everyday beauty that will soon become our past.

Childhood memories are explored in "When the Junk Man Came Down Summer Street" and "The Circus Comes to Paterson." The rituals of Catholicism are dissected and mulled over in "First Communion Girl" and "At Saint Anthony's." Finally, in a compelling showstopper, the glory of the Silk City is restored in "Paterson by Milk Light."

Eileen Moeller's direct prose invokes a powerful and genuine nostalgia that urges the reader to keep their feet steady as they dance within the push and pull of memory. Silk City Sparrow reminds us that by shouldering our legacies, we are shaping the people we will one day become.

Praise for Silk City Sparrow
In Silk City Sparrow, Eileen Daly Moeller inhabits the deeper precincts and neighborhoods of memory and stakes her claim to a city which has always been a place of contradictions, a city founded on the power of a great falls, but also on the exploitation of laborers and the struggle of many waves of immigrants. a city where poetry may not be expected, but for which poetry remains absolutely necessary ... Moeller writes with great insight and a keen sense of place, "her voice at full tilt, rain lashed and battered."
~Joseph D Weil, The Backwards Year
With Silk City Sparrow, Eileen Moeller joins the ranks of fine poets who use beautiful and gritty Paterson, N.J., as backdrop and subject. She translates the city—and her relationships with people who live there— to portraits of human need, survival, and redemption. Williams, Mazziotti Gillan, Villar: pull an extra chair up to the table, for you have some exciting company. Silk City Sparrow is a feast and a song. Moeller knows how to make grit scintillate, how to make a reader turn a page eagerly.
~BJ Ward, Jackleg Opera
Book Details

ISBN: 978-1-7337360-7-7
Release Date: November 17, 2020
Dimensions: 5x8 in
Page Count: 114
Format: Paperback
We currently have 27 copies available.
Share
View full details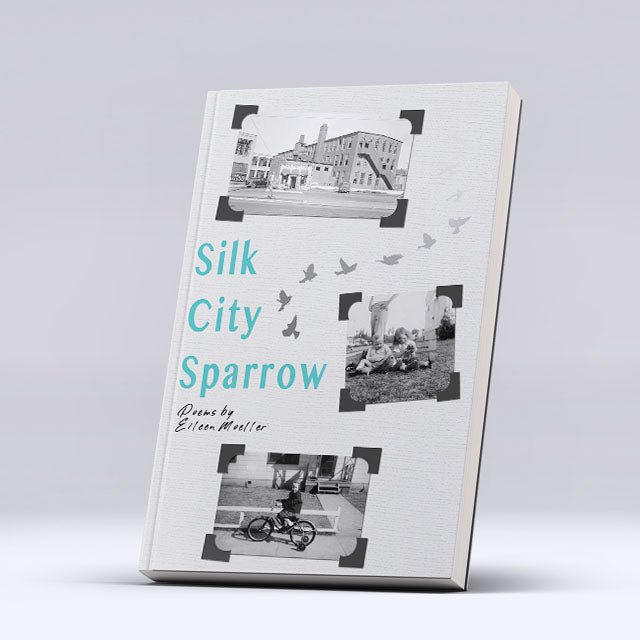 Silk City Sparrow is available wherever books are sold
Shop local and support one of Eileen's favorite independent bookstores.
Located in the UK or EU? Order internationally through Waterstones Books.