Jo Freehand
Regular price
Sale price
$10.99 USD
Unit price
per
Sale
On Backorder - please see additional purchasing options
A collection of poetry that redefines the poetry landscape.
Playing with space and creative form, Whatever You Thought, Think Again illustrates a creative agility that showcases the depth of Jo Freehand's talent.
"... how could I not
walk into the outstretched arms
of that big bosom of a mother drum
inviting me to rest my head on her smooth,
warmed, pulsating flesh."
-from "Walking Toward Djembe"

Passion and desire are welcome companions as Jo Freehand honors her queer identity through the celebration of the sacred life. With Jo Freehand as our fairytale guide, we are taken on a journey through the hidden forests of trauma, PTSD, and isolation and reach the other side to find beauty and longing.

As a minimalist poet, Jo Freehand plays with different structures - there are long-form poems, confessions, dreamscapes, a Tripadvisor post, and an application for the International Fairytale Princess Society. This mix of poems embodies a memory of healing and survival, reminding us to face our present - monsters and all.

Praise for Whatever You Thought, Think Again
The last word in Jo Freehand's astonishing new book, Whatever You Thought, Think Again, is the imperative Ride. She sends us out on a magic carpet to face the world as she has encountered it in poems that are not afraid to open any door to any castle, to face down any ogre. In the company of Grandmom Alcorn, Julie Andrews, Gretel, Goldilocks, and Red Riding Hood and a poet brave enough to find humor and hope in our human condition, we dare to question what we took for granted, to wrestle meaning from trauma, and to celebrate this rollicking and rewarding ride language takes us on.
~Christopher Bursk, author of Improbable Swervings of Atoms

Book Details

ISBN: 978-0-9965227-7-9
Release Date: April 16, 2018
Trim Size: 5x8in
Page Count: 86 pgs
Format: Paperback
We currently have 11 copies available.
Share
View full details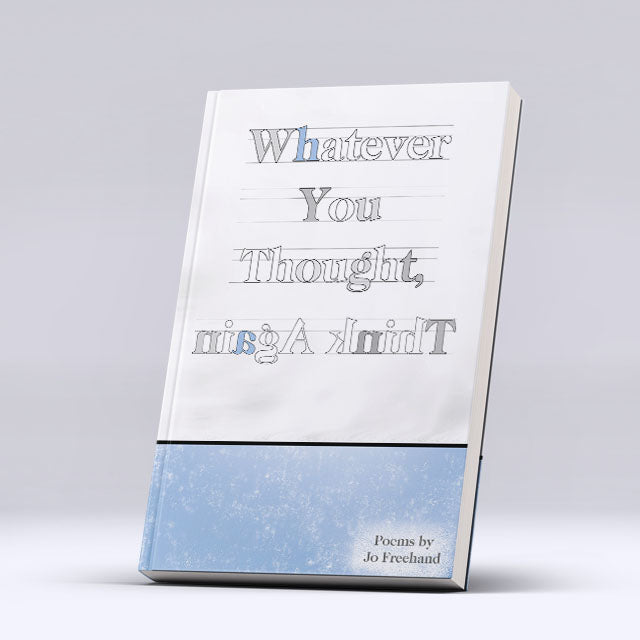 Whatever You Thought, Think Again is available wherever books are sold
Shop local and support one of Jo's favorite independent bookstores.
Located in the UK or EU? Order internationally through Waterstones Books.